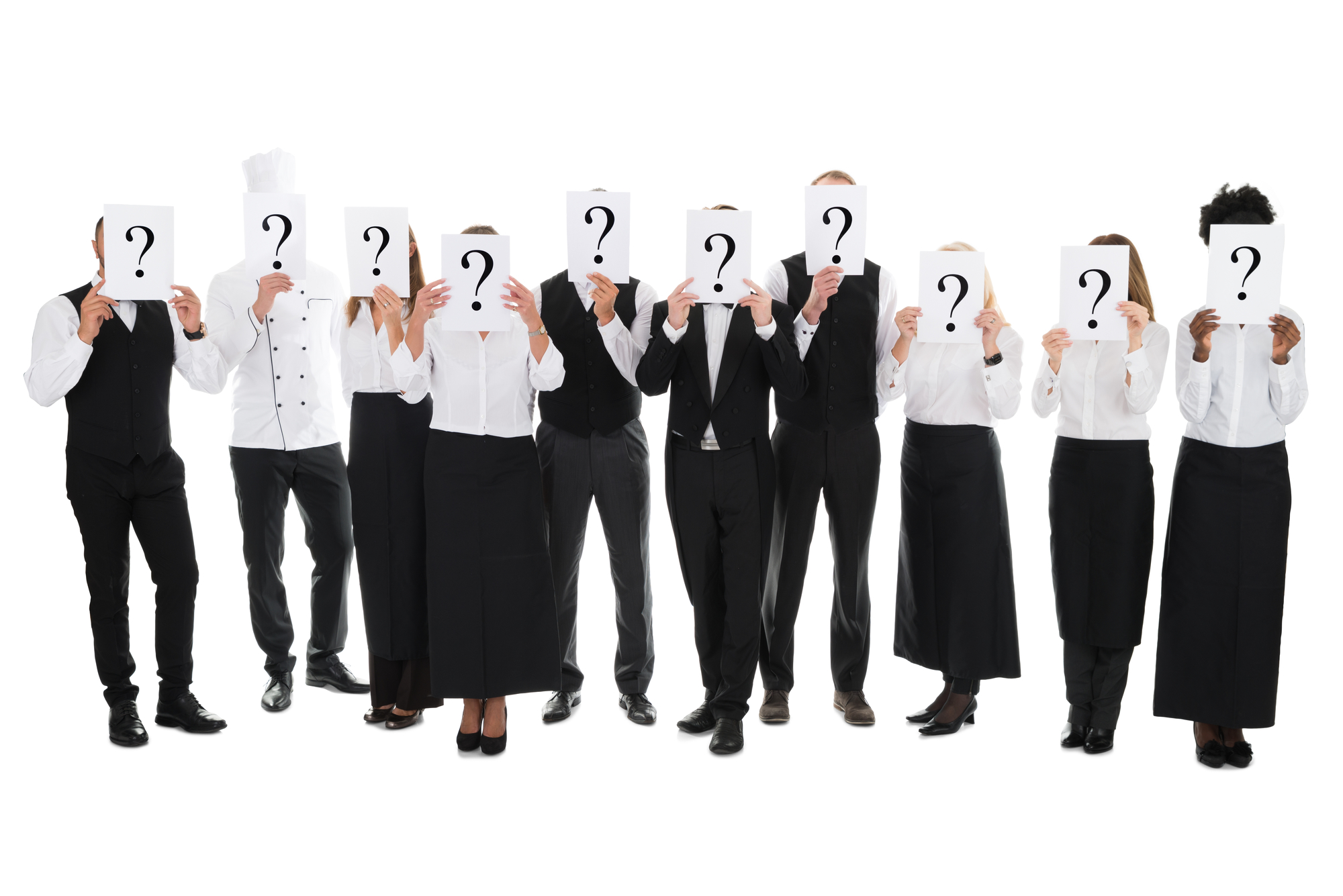 Common Questions & Information
Find the answers to the questions you probably want to ask and more!
Who

is Chefs On The Run Australia?

We are one of Australia's premier Temporary Hospitality Staffing Agencies with a proud track record of supplying quality Chefs, Waitstaff, Catering Assistants, Food Service Assistants, Kitchen Hands and other catering staff to a broad range of organisations around Australia for the past 30 years.
Where

are Chefs On The Run?

With offices in Melbourne, Sydney and Brisbane and the ability to supply across Australia, Chefs On The Run have a large brigade ready to assist.
How

many employees does Chefs On The Run?

We employ approximately 750 casual staff across Australia. This number allows us to control the quality of our brigade whilst still being able to supply with the demands from our clients. The flexible nature of workforce – and our ability to supply work at multiple sites for our casual employees means that we are well equipped to maintain a workforce experienced to handle different situations.
Why

use Chefs On The Run?

Having a chef for your business is mission critical to the success of any restaurant or Hospitality venue. When one goes on holiday, calls in sick or leaves, the stress levels on everyone in the business increases dramatically until a replacement can be located.
At Chefs on the Run, we understand this and place great emphasis of not only finding a chef but finding the right chef for the job.
So from the moment you call Chefs on the Run, you can trust us to do everything we can to make sure that you are put at ease. All our operations team have either managed or owned their own venue, allowing us to have intimate knowledge of the workings of the Hospitality industry.
When

is Chefs on the Run Open?

We have people on site 24/7 right around Australia. Our Operations team answer calls between 6am and 10pm, 7 days a week. Outside of those hours, just leave us a message and we'll get back to you.

If you have an emergency due to injury, illness or someone failing to turn up to work, or want to discuss the range of services we offer, just give us a call!
What

qualifications is needed to work for COTR?

Due to the requirements of our clients, we are looking for experienced and skilled staff who are able to walk into a new site, pick up tools and get the required job done. As a result, unfortunately we cannot take on staff new to Hospitality.

CHEFS

Our chefs need a minimum of 5 years post-completion of their apprenticeship in Commercial Cookery. This ensures that the people we send to client sites are sufficiently experienced to be able to cook in a new environment and with a new menu, without the need for significant supervision.

OTHER CATERING STAFF

We require you to have at least 1-2 years' experience in a similar role to the one you are applying for.

We require at least two recent references from every applicant, so that we can check with people you have worked with before prior to offering you a place on our Brigade.
Do

I need to supply my own tools and uniform?

Yes, you are responsible to supply all your own uniform to wear to each shift – see our handbook for uniform requirements.

Chefs are required to take their own knives to each shift as well as having full chef's kit to work in – a tool allowance is payable to you each shift.
What

Award will I be paid?

Chefs on the Run pays under the Hospitality (General) Award 2010. All staff are employed on a casual basis and are paid weekly. We guarantee that all the appropriate wages, taxes and superannuation are paid as required.
How

do I apply for work?

Chefs On The Run is always looking for quality experienced staff to join our brigade. Head to the "Employment" page and send your resume through. If you have the skills and experience we are looking for, we will be in contact with you promptly.
What

type of venues can I work at?

We would love to give you shifts week in week out, right next to your home – but in the real world, this is simply not possible. We expect all our staff to be prepared to travel up to 1 hour to and from a shift. The more willing you are to travel to a shift the more hours you are likely to receive.
How

much work can I expect?

All staff employed by Chefs On The Run are employed on a casual basis. Our role in the industry means we match people with the necessary skills and experience to our clients who have intermittent requirements (often at short notice).
Is

travel involved?

We would love to give you shifts week in week out, right next to your home – but in the real world, this is simply not possible. We expect all our staff to be prepared to travel up to 1 hour to and from a shift. The more willing you are to travel to a shift the more hours you are likely to receive.
What

is the turnaround time to get a staff member?

We are available 24/7 to take bookings and will endeavor to have a chef or staff to you as soon as possible. We prefer that you use our after hours service only where emergencies are concerned and make other bookings during business hours. The more notice you are able to provide, the easier it is for us to source the right person for you.

Chefs On The Run will not supply someone into a role who we believe does not have the correct skillset to fulfill the job. We will also not allow you to book someone too junior for the role you require filled. We would rather say no, than send someone who will either be unable to do the job properly, or who will be unduly stressed by having to perform outside their capacity.
How

do we pay for the staff member?

All personnel are employed by Chefs on the Run. We pay them weekly. Staff will provide you or your shift manager a timesheet at the end of every shift they work, which you need to have signed and give back to our employee.

An invoice will be supplied to you the following Thursday from the previous working week. Our working week runs Monday to Sunday. We pay Award wages, including overtime where appropriate, Superannuation, Worker's Compensation Insurance and Payroll Tax – and provide all of our employees with payslips. We utilize the One Touch Payroll platform.
Do

you service remote clients?

We supply all over Australia. Bookings can be up to 8 weeks, or longer if required. However, based on decades supplying remote contracts we encourage you to consider splitting longer bookings between two or more employees, so that employees are able to take a break from isolation without disrupting your continuity of service for your clients.
Is

COTR covered for insurance?

Chefs On the Run is fully covered with $20m Public Liability and $10m Professional Indemnity Insurance. We also have Worker's Compensation Insurance (and a comprehensive OHS Plan in place) in Victoria, Queensland and New South Wales.
Do

you recruit for permanent positions?

Chefs On The Run is a temporary staffing agency, we do not recruit for permanent positions. From time to time, some of our chefs come to us for work whilst they are looking for permanent fulltime work.

If we know you are looking to recruit and have chefs looking for permanent positions, we are able to place them into your venue on a casual basis (like a try before buy). After this, if both you and the employee are happy to come together, we will negotiate a contract release figure with you for the introduction. Please feel free to discuss this with us if it is relevant to your circumstances.
How

do we set up an account?

The first time you contact us to make a booking, we will send you our Account Application paperwork. To set up your account, we will need all pages completed and returned. Until a credit history has been established with you (approximately 4 weeks of invoices) we will ask you to provide prepayment for your booked shifts using a credit card prior to the bookings. Please forgive the inconvenience, but we've had so many new clients fail to pay their accounts that this allows us to mitigate the risks associated with employing and paying people to come to your site and providing you with credit for the amounts involved, until we have established that you will pay your accounts on time, and in full.

Only our Finance team has the ability to agree to put you on an account, but this will almost always take place as soon as a consistent payment history has been established with you.
What

are minimum hours for staff member?

For Head Chef, Chef and Cook roles, the minimum booking is 4 hours. For all other personnel, the minimum booking is 3 hours.

For employees working at remote sites, minimum hours are 38 hours per week (Monday to Sunday) or 8 hours per day for bookings of less than a week in duration. Travel and accommodation will also have to be covered by you – we will discuss the best approach with you when you call.
How

do I know I am getting the right person for the job?

When you place a booking we gather as much information from you regarding your specific requirements and environment as we can. Using that information, we then match our staff to your requirements, so that we are able to send you someone (or a team) best-suited to the role you need filled.

All our operations teams are experienced within the Hospitality Industry, many were previously chefs or managers. This means that the people working to supply your requirements really do understand what it's like to perform the duties you need delivered and have the appropriate knowledge to determine who is best-suited to the position.

If we do not have anyone suited to the role, we will communicate this to you.